Welcome to DJK Renewables and our solar world
We have been installing solar panel & battery systems, to both domestic and commercial premises, since 2009. We may not be the cheapest BUT we use only the most up-to-date and highest quality green energy products in the solar market. This has gained us a long list of satisfied clients, happily harnessing solar power through renewable energy solutions.
DJK specialise in supplying solar panel & battery – Photovoltaic ( PV) systems, but are also experts on a whole range of low-carbon technologies. These include advanced LED lighting, heat pumps, solar thermal arrays and rainwater collection/filtration systems.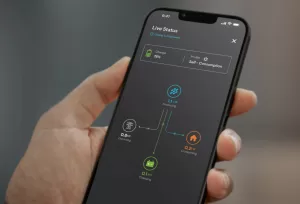 We do not employ salesmen. You will meet fully qualified installers with years of experience. Every DJK project is undertaken in-house, and we do not outsource or subcontract any of our works.
Join the growing community of eco-friendly individuals who are making an impact using green energy, while enjoying substantial savings. Choose us for affordable solar & battery systems and solutions that never compromise on quality.
DJK Renewables
Suppliers & installers of quality solar energy systems - best in the SE. Save money and the planet.